I really did not do a good job of reading books this year. My goal was initially to read 80 and then it dropped to 50 when I fell far, far behind. And then, a few days ago, I switched it to 40 because there was absolutely no way I was going to make the time to read seven more books by the end of the year. I have no one to blame but myself and my horrible time management, and I'm okay with that. It just means I need to step up my game in 2017 (I should be done watching Grey's by then so I'm not worried). HOWEVER, it has made writing this wrap up extremely difficult.
When I was thinking about my favourite books that I read this year, absolutely nothing came to mind. When I checked through this year's bookshelf on Goodreads, I really didn't find anything that I wanted to write about. It could be because if I actually have something to say, I'll write a review on it and then my thoughts disappear OR it could be that I just didn't read anything extraordinary this year.
Despite all of that, I've made a little list of some books I read this year and why I think they deserve a mention.

It Ends With Us by Colleen Hoover
If I'm not reading a memoir, there's a really good chance that I'm reading something that falls under the 'new adult' genre. According to my NA bookshelf on Goodreads, I've read 68 of them but this one is my absolute favourite.

Lady Midnight by Cassandra Clare
I think this might be the best book Clare has written. It came out right around finals and I avoided all of my responsibilities to finish it as quickly as I could. I mean, I do that a lot anyways but this book is basically a brick so it took more commitment that your average novel.

Remembrance (The Mediator #7) by Meg Cabot
In middle school, I read every single book that Cabot had written. I declared her my favourite author and tracked down what I could at the library, and my mom would bring me home used copies from her thrift store escapades. When I found out she was writing a sequel to the Princess Diaries series and book seven of the Mediator series, I may or may not have shed some actual tears. Neither of the books disappointed me and it was SO nice to be able to revisit the characters this year from the Mediator series in a new story.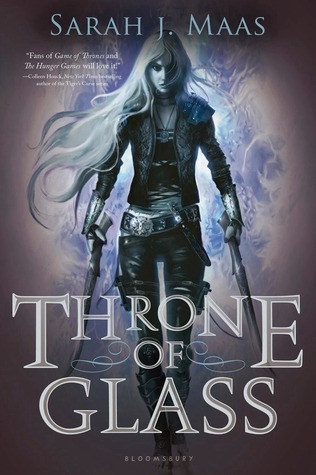 Throne of Glass (Throne of Glass #1) by Sarah J. Maas
I started this series because of all of the hype surrounding it. The first book took a reallllly long time to get interesting and I'm not in love with the series, but something about it is making me continue. I really wish I could love it, but I don't. However, the series has definitely gotten stronger with each book, so I have high hopes for book 4 and book 5
.


Coreyography by Corey Feldman
Hollywood is probably more fucked up than you would expect it to be.

Furiously Happy: A Funny Book About Horrible Things by Jenny Lawson
I wrote a review about why this book is important to me. If you're not interested in reading an entire post of my thoughts, just know that this book is very open about mental health in a fun, self-deprecating way. The humour cancels out the seriousness BUT somehow it's still educational and supportive.

Tuesdays with Morrie by Mitch Albom
I absolutely love every single book by Mitch Albom that I've read. Something about his words and imagery make me feel things I didn't know that I could feel but also leave me with a sense of contentment and hope.
—
Those are my favourite reads of 2016! A few helped me change my life and make important decisions, one was scarily eye-opening, and the rest were just fun.
What are your favourite books that you read this year?
I hope you all had wonderful holidays!
Take care, be safe, read lots, and I'll see you in 2017!