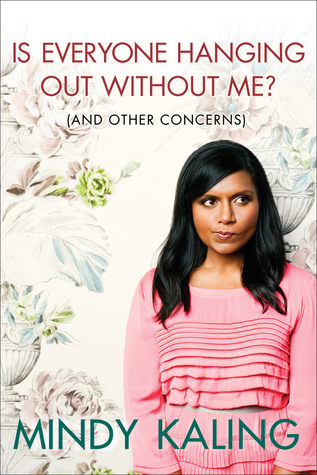 In Is Everyone Hanging Out Without Me?, Mindy invites readers on a tour of her life and her unscientific observations on romance, friendship, and Hollywood, with several conveniently placed stopping points for you to run errands and make phone calls. Mindy Kaling really is just a Girl Next Door—not so much literally anywhere in the continental United States, but definitely if you live in India or Sri Lanka.

– blurb from Goodreads
For the absolute longest time, I was under the impression that Mindy Kaling was just not funny. Because of this, there was absolutely no reason to read her books. Many of my friends were huge fans of her tv show, The Mindy Project, and had nothing but good things to say about her, the show, and her first book. However, these were also the friends that found the tv shows Community and Happy Endings to be amazing – I did not. So, of course, I was reluctant to give this show, and her books, a shot. I finally relented when I was channel surfing and happened across the end of an episode. I can't remember the year, the season, or what it was even about, but I do recall that I was very unimpressed. Fast forward a few years and a different group of friends were raving about Kaling's show. It also kept popping up in my suggestions on Netflix. I decided to give the pilot a shot and, suddenly, I was hooked. I binge watched the first four seasons and a few episodes of the fifth in a remarkable amount of time. From there I browsed Kaling's social media, mainly for updates on the show, and found out that she's actually really cool (duh). It was now a given that I would have to read Kaling's memoirs and so here we are!
I've been in a reading slump lately (hence my lack of updates). My ADHD has been in full force and I've been getting distracted by everything. Luckily, audiobooks exist which means I can play games on my phone WHILE "reading". It's really the perfect combination and I don't know why I haven't done it before. I've also found that I prefer certain memoirs, like the less traumatic celebrity money grabs, in audiobook form. I'm not quite sure why but that's how it is.
I absolutely loved listening to Kaling talk about her childhood, striving towards her dreams, her insecurities, and, of course, boys. She's very easy to listen to. However, a lot of the content fell flat. I know she's a comedian and they hide behind humour blahblah but I feel like this memoir could have used more depth on how she actually felt when she was bullied, and how she struggled breaking into the industry. The only time I actually felt like I was getting something more than a random stranger's story was when she was talking about relationships and her parents marriage. While it may not be fair of me to think this way, I expect a lot out of memoirs. Like heart shattering, gut wrenching emotional stories that you wouldn't expect to come from your best friend let alone someone you have never met before. Okay, that's definitely not fair for me to expect with celebrity memoirs and I guess I wasn't expecting anything that deep from Kaling. I was, however, expecting a little bit more heartfelt emotion than what I actually got.
Nobody is perfect and sometimes comedians, and people in general, find incredibly offensive and terrible things funny. While Kaling, from what I know of her, is pretty damn good about keeping things from going down those lanes, I did pickup on a transphobic slur, a number of "jokes" about race, and a few rape "jokes".
One constant theme was Kaling's weight. She's not a size two, she's a size eight, and I get that Hollywood isn't very good at dealing with that, but it's also not really a big deal in the real world. It's different as a child when you're overweight because kids are terrible – I understand telling those stories. However, Kaling uses self-deprecating humour about the way she looks now and I found it mind-numbingly frustrating. I get that finding clothes/having fittings in Hollywood SUCKS when you're not the "average" size but also she's a SIZE EIGHT. That's below the average size of women in America. To put that in perspective for people who know what I look like, I range between a size twelve and a fourteen. Height is also a factor here (I'm 5'9″), don't get me wrong. But having her diss herself CONSTANTLY and make fat jokes made me feel like shit despite usually being comfortable with myself. This theme is also ongoing in her show and it just baffles me. I get self-deprecating humour, I really do. I enjoy using it myself but it's also something that is only okay in small doses. I'm just pretty upset that it's the most memorable thing about this memoir.
Despite all of the things I DIDN'T like, I promise you I really did enjoy Kaling's debut. In fact, I listened to the four hour audiobook in almost one whole sitting. I only paused, with half an hour left, to go buy my mom orange juice, get dinner, and go bowling. As soon as I was back home, the headphones were in and Kaling's voice was rambling on in my ears. Is Everyone Hanging Out Without Me? really is a great read. Actually, it might be my favourite celebrity memoir thus far (excluding Carrie Fisher because she's always and forever #1).