I have made the sudden, and late, executive decision to start posting a wrap-up of all the books I've read at the end of each month! I was originally going to start this in video form for my youtube channel but I don't have physical copies of most of the books I read and my editing software (windows move maker whaddup!) won't let me use overlays.
While I do have the Goodreads widget that shares what I'm reading on my blog, I don't post my thoughts unless I'm writing a full blown review or creating a recommendation list. And since I don't review every single book I read, a lot of them get left out. So, I thought including this little segment would be a great way for me to deliver an extra post a month and have all of my reading compiled together! This might be redundant if you follow me on Goodreads, though!
---

Cruel Crown by Victoria Aveyard
2 out of 5 stars
I'm really not a huge fan of this series and I definitely don't care about either of the characters that these novellas gave backstory to.
---
Glass Sword & King's Cage by Victoria Aveyard
3 out of 5 stars | 3 out of 5 stars
I really didn't like the first book, which I reviewed. For some reason I feel obligated to read the sequels, so I am. I don't hate them but I'm also not excited about them at all.
---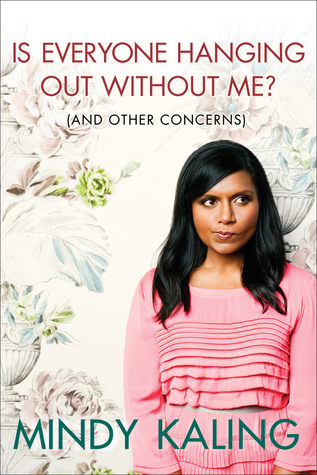 Is Everyone Hanging Out Without Me? (And Other Concerns) by Mindy Kaling
3.5 out of 5 stars
You can read my review here!
---
Rat Queens Vol. 1-3 by Kurtis J. Wiebe
5 out of 5 stars | 4 out of 5 stars | 3 out of 5 stars
Absolutely love the characters overall. However, the first volume was by far the best. As the story carried on, it started to fall flat and I began to lose interest. The artist has also changed a few times, which was distracting when read consecutively.
---

Confessions of a Tinderella by Rosy Edwards
4.5 out of 5 stars
You can read my review here and an interview my friend Emily did with the author here!
---

Wild: From Lost to Found on the Pacific Crest Trail by Cheryl Strayed
4 out of 5 stars
I was pleasantly surprised by this memoir! The writing was captivating and I was instantly hooked.
---

For One More Day by Mitch Albom
2 out of 5 stars
I've been patiently waiting for the day that Mitch Albom would let me down and the time has come. I didn't like the characters and the story didn't grasp my attention like his others have.
---

Ten Tiny Breaths by K.A. Tucker
2 out of 5 stars
You can read my review over here!
---
I read a total of 11 books in March putting my reading challenge at 17 out of 75!
---
What did you read in March?