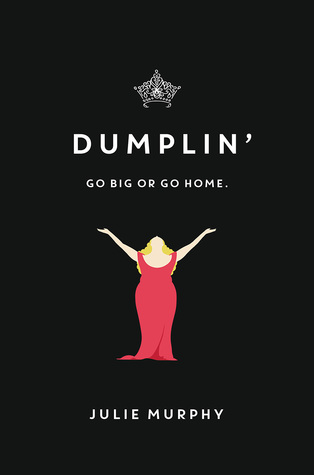 Self-proclaimed fat girl Willowdean Dickson (dubbed "Dumplin'" by her former beauty queen mom) has always been at home in her own skin. Her thoughts on having the ultimate bikini body? Put a bikini on your body. With her all-American beauty best friend, Ellen, by her side, things have always worked…until Will takes a job at Harpy's, the local fast-food joint. There she meets Private School Bo, a hot former jock. Will isn't surprised to find herself attracted to Bo. But she is surprised when he seems to like her back.

Instead of finding new heights of self-assurance in her relationship with Bo, Will starts to doubt herself. So she sets out to take back her confidence by doing the most horrifying thing she can imagine: entering the Miss Clover City beauty pageant—along with several other unlikely candidates—to show the world that she deserves to be up there as much as any twiggy girl does. Along the way, she'll shock the hell out of Clover City—and maybe herself most of all.

With starry Texas nights, red candy suckers, Dolly Parton songs, and a wildly unforgettable heroine—Dumplin' is guaranteed to steal your heart.

– blurb from Goodreads
I had very, very, very high expectations for this book. A YA novel that's dealing with body image is tricky enough to maneuver but when the protagonist isn't your typical "beauty queen", it becomes a whole other ball game. Dumplin' surpassed every single hope and wish I had. I found every significant character to be likable. All of the problems and insecurities they had were real. From the views of sexuality to how being fat and beautiful aren't interchangeable descriptions, Julie Murphy really did a great job with this book.
Of course, there were some things I didn't like. Using the term "spirit animal" is cultural appropriation and there's a much detailed explanation about it here. There was a lot of internal judgement from Willowdean towards the other characters, which didn't sit right with me. Of course, it's human nature to judge other people and how you deal with it really says who you are, but Willowdean let those judgments make her decisions (ie. not getting to know the "outcasts").  I also wish her relationships with her mom and aunt were explored a little bit more and the reader was shown more about the family's past. I want a better sense of why Lucy's loss was so significant. I feel like I started to understand but it wasn't explored well enough for me to really feel sympathetic.
Overall, I'm very pleased with Dumplin' and I had a fantastic time reading it. If you're looking for a fun contemporary that digs a little bit deeper this summer, this is the book for you!